Radon is a cancer-causing, radioactive gas resulting from the decay of uranium. You can't see it, smell it or taste it. But it may be a problem in your home.
Nearly 1 out of every 15 homes in the U.S. is estimated to have elevated radon levels. The Surgeon General has warned that radon is the second leading cause of lung cancer in the United States today and estimate that radon causes many thousands of deaths each year.
Radon is the leading cause of lung cancer among non-smokers and the second leading cause of cancer overall. Only smoking causes more lung cancer deaths. If you smoke and your home has high radon levels, your risk of lung cancer is especially high.
As an Ohio-licensed radon testing company (license RT753) we perform testing in conjunction with
home
or
commercial
inspection or as a standalone test. With our electronic continuous radon monitors, exposure levels are available immediately and a full report will follow shortly after testing.
We also provide post-mitigation testing. These tests should be conducted once the mitigation unit has been running at least 24 hours and within 30 days of system installation.
So if you are simply curious about exposure levels in your home or if a test is required as part of your real estate transaction, our professional radon test will give you the information you need.
---
---
How Does Radon Get Into Your Home?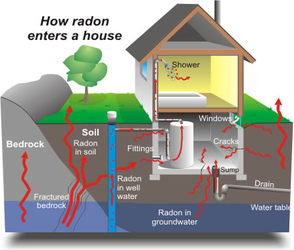 Click to enlarge

Radon typically moves up through the ground to the air above and into your home through cracks and other holes in the foundation. Your home traps radon inside, where it can build up.

Radon's prevalence is not limited to air. It can also be found in water, although the EPA suggests that radon levels in water are usually low.

Any home may have a radon problem. This means new and old homes, well-sealed and drafty homes, and homes with or without basements.

---
---
Radon Levels in Ohio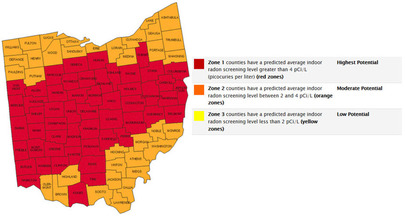 Click to enlarge
While the presence of radon is pervasive throughout the United States, certain areas of Ohio are particularly prone to higher levels of radon exposure. The primary reasons are two geological phenomena: a large shale outcropping and sediment deposited by glaciers. Both issues are associated with high radon levels.
The exposure level for installing a mitigation system is 4.0 pCi/L (picoCuries per liter) and above. Because there is no known safe level of exposure to radon, the
EPA
also recommends that Americans strongly consider fixing their home for radon levels between 2.0 pCi/L and 4.0 pCi/L.
The average indoor radon concentration of America's homes is about 1.3 pCi/L. It is upon this level that EPA based its estimate of 20,000 radon-related lung cancers a year upon.
---
---
Results and Reporting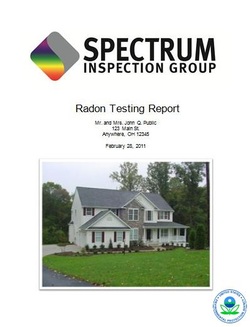 Professional, computer-generated reports are produced immediately after testing.

Our objective, unbiased testing and reporting will provide guidance on how to reduce your exposure levels and whether or not mitigation is recommended.




---
---
Read the EPA's Consumer Guide to Radon Reduction here or click "Download File" below to save it to your computer.
---