Thermal imaging, or infrared, is the leading non-destructive inspection technology available today. Because of its many applications, thermal imaging has become one of the most important technologies utilized in the commercial and industrial inspection arena. In the hands of a skilled, certified thermographer, an infrared camera allows us to detect items which would have otherwise gone unnoticed in a typical visual inspection.
How Does It Work?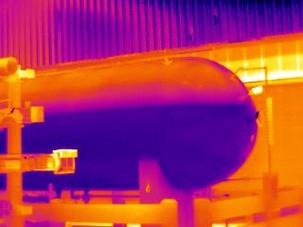 Liquid storage levels detected
Differences in surface temperature reveals many remarkable qualities and abnormalities about a building.

Thermographic technology has vastly improved over recent years, allowing for more accurate and insightful surveys. In fact, thermography has become one of the most cost effective means of identifying and resolving many adverse conditions. Because of the severity of issues commonly discovered, it is not uncommon for a client to experience a 4 to 1 benefit ratio from regular infrared inspections.

Infrared inspections and surveys are increasingly requested for commercial, and industrial applications. These inspections utilize the same technology found in military, aerospace, and medical applications.


Infrared thermal inspections have helped commercial investors, net lease occupants, commercial real estate investors, commercial property management firms, residential properties, industrial preventive maintenance, building management firms, maintenance teams, general contractors, renovators, commercial inspectors, real estate specialists, builders, and renovation specialists.

Infrared inspections are vitally important to detect otherwise unknown or virtually invisible issues and concerns. Inevitably, building owners will become affected by high energy costs, severe weather, leaks, and periodic flooding. Infrared inspection technology can assist with these environmental and building concerns and greatly reduce damage and repair costs associated with them. Finding a problem early greatly reduces repair costs and potential downtime.

Types of commercial real estate that would benefit from an inspection or property condition assessment performed by Spectrum Inspection Group include:
---
Apartment Buildings

Firehouses & Police Stations

Banks

Retail Stores

Restaurants

Car Dealerships

Churches & Meetinghouses

Equestrian Facilities & Stables

Office Buildings & Complexes
Light Industrial & Manufacturing
Car Dealerships
Warehouses
Funeral Homes
Computer Data Centers
Automotive Repair Centers
Medical, Dental Offices

Working Farms
Multi-family Buildings
Fitness Centers
Retirement Homes & Senior Centers
Schools & Daycare Centers
Hotels, Bed & Breakfasts
Bars, Taverns, Pubs
Medical and Pharmaceutical Labs
---
Just a Few Examples of How Thermal Imaging Can Help Your Business...



Sub-surface water retains its thermal capacity as the unaffected portion of the roof cools at night. The resulting temperature gradient is easily detected with an infrared inspection.

The benefits include:

Tripling roof life! The average lifespan of an unmaintained roof is 7 years. A properly maintained roof can last over 20 years.

Confirming proper installation of new roofs or repairs of existing roofs.

Maximizing the value of your roof's warranty by having an inspection prior to the end of the warranty period.

| | |
| --- | --- |
| | Building Envelope Surveys |

An infrared inspection can help detect deficiencies during construction or a real estate transaction.

The benefits include:
Improving thermal performance by detecting uncontrolled air movement
and missing insulation.

Identifying moisture intrusion that can damage equipment, cause structural issues, and
lead to worker health issues.

Avoiding costly call-backs by identifying issues during construction.

Electrical & Mechanical Surveys
An infrared inspection to locate improperly balanced electrical load and loose connections is crucial for maintaining business continuity.

The benefits include:

Increased worker safety.

Finding loose connections that can lead to system failure.

Extending equipment life by locating mis-aligned rotating components.

Protecting operations from unplanned downtime.

Avoiding malfunctions that "self-correct".


A sweeping infrared inspection can help you and your staff understand where critical hidden system components are located.

The benefits include:

Understanding the extent of hidden component failure.

Increasing maintenance efficiency.

Planning for growth & expansion with confidence by knowing the location of critical systems.

Transferring knowledge to new staff members with certainty.

---
The potential complexity of a commercial building inspection lends itself to discussion prior to scheduling. Rather than use the Schedule tab, please fill out the form below with your interest or call (330) 289-2889 to discuss your specific needs. Thank you!